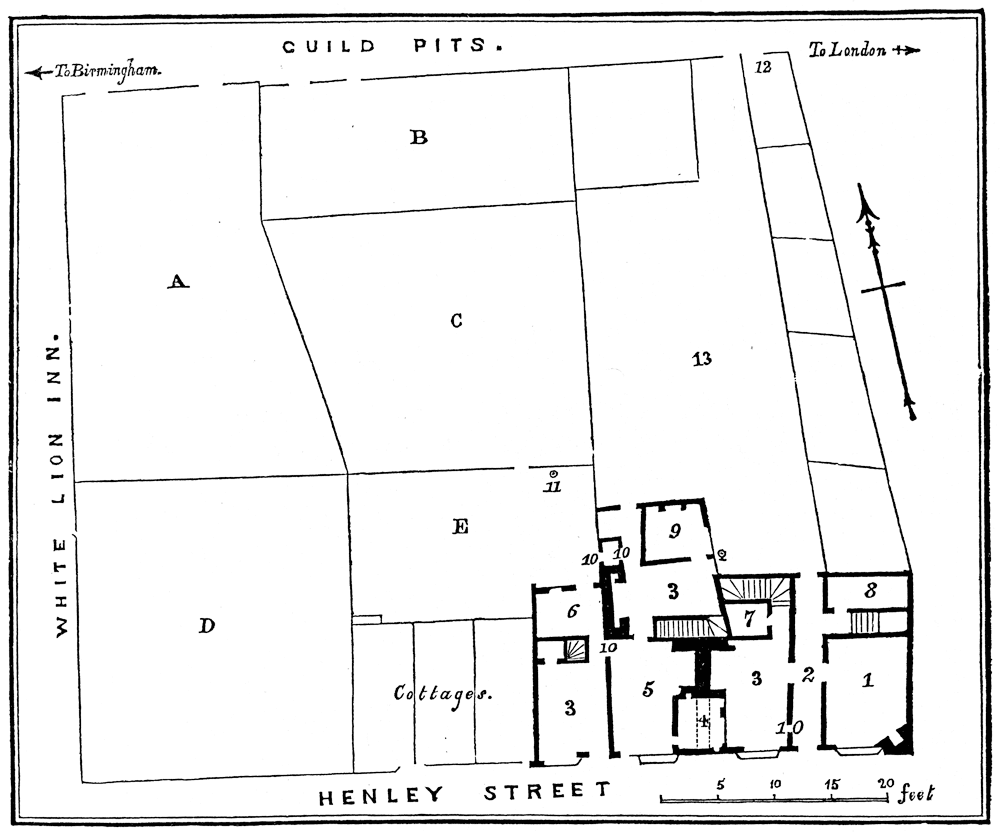 PLAN OF THE PROPERTY IN HENLEY STREET ORIGINALLY POSSESSED BY THE SHAKESPEARE FAMILY.
B. Site of the Old Barn, sold to Alderman Payton in 1771.
A. B. C. D. Now belonging to the White Lion Inn.
E. Sold by Thomas Hart to Alderman Payton in 1771. This reference includes the cottages, which were also sold to Payton.
References to the two houses in Henley street, the property of John Shakespeare.
1. Parlour. 2. Passage. 3. 3. 3. Kitchens. 4. Bar of the Inn, which, now termed the Swan and Maidenhead, was originally a dwelling-house. 5. Butcher's shop, now shown as Shakespeare's birthplace, but the cottage to the left (3) was originally part of the house. 6. Buttery. 7. Pantry. 8. Store-room. 9. Back parlour. 10. 10. 10. 10. Doors stopped up. 11. Pump. 12. Gates. 13. Back yard. The above plan is taken from Mr. Wheler's 'Account of the Birth-Place of Shakspeare,' 1824. The partitions which were made of the land originally belonging to this property do not appear to have been correctly identified.