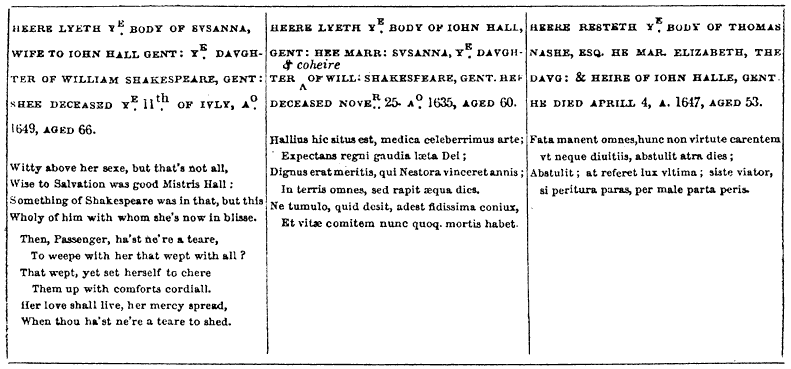 "Heere lyeth ye body of Svsanna, wife to Iohn Hall gent: ye davghter of William Shakespeare, gent: shee deceased ye 11th of Ivly, Ao 1649, aged 66.
Witty above her sexe, but that's not all,
Wise to Salvation was good Mistris Hall :
Something of Shakespeare was in that, but this
Wholy of him with whom she's now in blisse.

Then, Passenger, ha'st ne're a teare,
To weepe with her that wept with all ?
That wept, yet set herself to chere
Them up with comforts cordiall.
Her love shall live, her mercy spread,
When thou ha'st ne're a teare to shed."




"Heere lyeth ye body of Iohn Hall, gent : hee marr: Svsanna, ye davghter & coheire of Will Shakespeare, gent. He deceased Nover 25 Ao 1635, aged 60.

Hallius hic situs est, medica celeberrimus arte;
Expectans regni gaudia læta Dei ;
Dignus erat meritis, qui Nestora vinceret annis ;
In terris omnes, set rapit æqua dies.
Ne tumulo, quid desit, adest fidissima conlus,
Et vitæ comitem nunc quoq mortis habet."




"Heere resteth ye body of Thomas Nashe, Esq. He mar. Elizabeth, the davg: & heire of Iohn Halle, gent. He died Aprill 4, A. 1647, aged 53.

Fata manent omnes, hunc non virtute carentera
vt neque diuitiis, abstulit atra dies ;
Abstulit ; at referet lux vitima ; siste viator,
si peratura paras, per male parta peris.